SUB-SAHARAN AFRICA, A REGION WORTH INVESTING INTO!



Join our Business Breakfast in Prague and find out more about business climate in South Africa and sub-Saharan region for Czech investors and business owners
In the coming decade, the sub-Saharan countries will experience the world's highest urbanization rate, leading to emergence of mega cities (by late 21st century, 5 out of 10 most populated cities globally will be in Africa). This is a great opportunity for European investors and businesses to prosper from an entry to an unsaturated market with increasing purchase power of local inhabitants and ever stabilizing sociopolitical context.
Accace, as a major player on European field of outsourcing and consultancy, is honored to invite you to a business breakfast dedicated to the region of sub-Saharan Africa, being introduced through an optic of new business development opportunities and foreign investments possibilities into alternative power sources, water management, communication infrastructure or other segments.
Our key note speakers will be Her Excellency Naomi Ribbon Mosholi, South Africa Ambassador, and František Řezáč who, during his time in the company PFNonwovens a.s., participated in the biggest Czech investment in the South Africa region. František will share the ups and downs of their journey and provide interesting insights.
TOPICS
The event will be focused on the following:
Introducing South Africa and Sub-Saharan region

Sociopolitical situation

Business environment

Economic climate

Legal and Tax regulations

Labour force & conditions of employment

Investment & business opportunities and challenges

Subsidies – Conditions and regulations

Other Specifics, such as Black Economic Empowerment (BEE)

Case study -Success story of the Czech company introducing benefits and challenges of doing business in South African (and other African regions)
Jiří Majer | CEO Accace and Founder TULIP
Jiří's professional career is connected with consultancy business for over 20 years. In 2006 Jiří was tempted to establish his own international outsourcing and advisory practice – and decided to found Accace. During the last 13 years, he managed to grow the business and transform a local company to a company with more than 600 professionals and an ever expanding global geographical footprint.
Přemysl Trojan | Managing Director South Africa
Přemysl Trojan joined Accace in 2019 and leads Accace´s operations of the newly established branch in South Africa focused on market entry consulting and BPO services in Sub-Saharan Africa. He has over 25 years´ experience in finance and advisory services in emerging and frontier markets, with a special focus on Africa.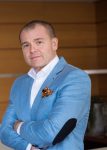 František Řezáč I Chairman of the Board of Directors of GUMOTEX
František Řezáč is a newly-appointed Chairman of the Board of Directors of the company GUMOTEX. Before coming to GUMOTEX, František worked in PEGAS NONWOVENS Group (now called PFNonwovens a.s.), where he held positions of CEO and Chairman of the Board of Directors. During his time in the Pegas group, he participated in projects concerning expansion to Africa – Egypt and South Africa, while the company's investment into a new production plant's construction project alone in South Africa exceeded 30 million EUR.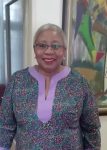 Her Excellency Naomi Ribbon MOSHOLI | South African Ambassador
Her Excellency Naomi Ribbon Mosholi was employed by the African National Congress as a Manager for International Relations. In this position, Her Excellency was responsible for interfacing with fraternal parties all over the world. Her Excellency has also be appointed as a Ambassador Extraordinary and Plenipotentiary of the Republic of South Africa to the Czech Republic.
REGISTRATION
To register for this event, please fill out the registration form below. Upon completion of the online registration, you will receive a confirmation by email. The registration is limited to 2 persons per company. Since the capacity of the event is limited, we recommend an early registration.
Should you have any questions, do not hesitate to contact Denisa.Turzova@accace.com.
Please note that Accace reserves the right to refuse a registration.
Accace Group
Originally established in Central and Eastern Europe in 2006, Accace ranks among the leading outsourcing and consultancy providers in this region. We have vast experience with handling small to large scale, multi-country outsourcing projects and providing comprehensive range of services to over 2 000 customers. Our clients are mostly mid-size and international companies from various sectors, while most of our business comes from Fortune 500 companies. Accace benchmarks its performance along all three areas of the triple bottom line to pursue dynamic while also sustainable and responsible growth.
Accace operates internationally as Accace Circle, a business community of Accace branches and our reliable partners, that provides unified, expert services and streamlined processes under one account management and shared online platform. Accace Circle has global reach yet provides local expertise, while keeping a consistent level of service quality, outputs, and business standards across borders.
More about us: www.circle.accace.com| www.accace.com