Right after reaching the 10th anniversary milestone in 2016, Accace was announcing 4 new partnerships in CEE and now the strategic partnership concluded with Unija. The new partnership ads 6 new locations on Accace´s map: Slovenia, Croatia, Serbia, Bosnia and Herzegovina, Macedonia, Montenegro and boosts the total number of outsourcing and advisory experts to more than 550.
Choosing cooperation over competition
Accace and Unija were not strangers to each other before the partnership. When asked why Accace chose Unija instead of other local partner, Jiří Majer – CEO Accace and founder of TULIP – clarified the relationship between the two companies: "It was not really a matter of choice. It was simply the logical next step after 6-7 years of cooperation and meetings in which we realized that we have the same business and personal DNA the service quality, the focus on people employees and Clients, in-house developed technology and common business background. There was also the nice match of strong local presences and common goals in growing regionally and not only. The cooperation aims to take on even new ventures and new jurisdictions together and to spread more of our business know-how and common sense approach on how to meet the needs of a growing Community."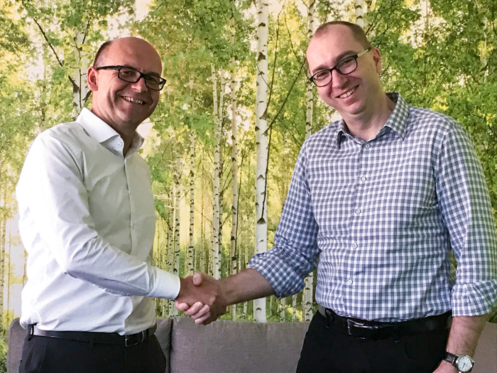 The statement is strengthened by Miran Pikovnik – President of Management Board, Unija – who, when asked why Unija chose Accace, answered: "Accace combines nicely the focus on services, people and technology in the same way as Unija does. Plus, Unija also felt that it is necessary for companies coming from our region, that are facing similar problems, to come together and give back more to the community in which we live, work and breath".
It is never just B2B – The human aspect behind the business
A strong partnership, that passes the test of time, is always based on the people behind it. This means having common goals, common visions and complementary strengths. This brings us to the previous quote of Jiří Majer, where the "personal DNA" was mentioned as one of the factors that brought Accace and Unija together. "Our companies are formed of simply normal and down-to-earth people that should be more proud on their achievements in the region and should take this to the next level in order to grow together. For us, being together in this Community simply means that we treat each member equally (regardless if it's our own employee, client's employee or any other people involved) and with high respect for each individual goal," the CEO of Accace further explained.
Accace operates internationally as Accace Circle, a co-created business community of like-minded BPO providers and advisors who deliver outstanding services with elevated customer experience. Covering almost 40 jurisdictions with over 2,000 professionals, we support more than 10,000 customers, mostly mid-size and international Fortune 500 companies from various sectors, and process at least 170,000 pay slips globally.