Developing the ecosystem and supporting start-ups in the form of education and possible investment – with this mission we joined forces with family venture house ZAKA. 17 start-ups went through the first spring batch and the jury selected two winning teams during the final Demo Day pitching.
After almost two months of an intensive program consisting of 14 workshops and dozens of hours of mentoring, 13 teams from Czech and Slovak start-ups made it to the Demo Day. The best pitch deck was decided during the evening at Campus Coworking by a jury composed of Peter Pašek (Managing Director & Partner of Accace Slovakia and Co-founder of AceON), Ján Kasper (Co-founder & Managing Partner of ZAKA, Co-founder of AceON) and Andrej Petrus (Chief Investment Officer at ZAKA). Together they agreed that not one, but two teams – Wopee.io and Mapheim – deserved to win.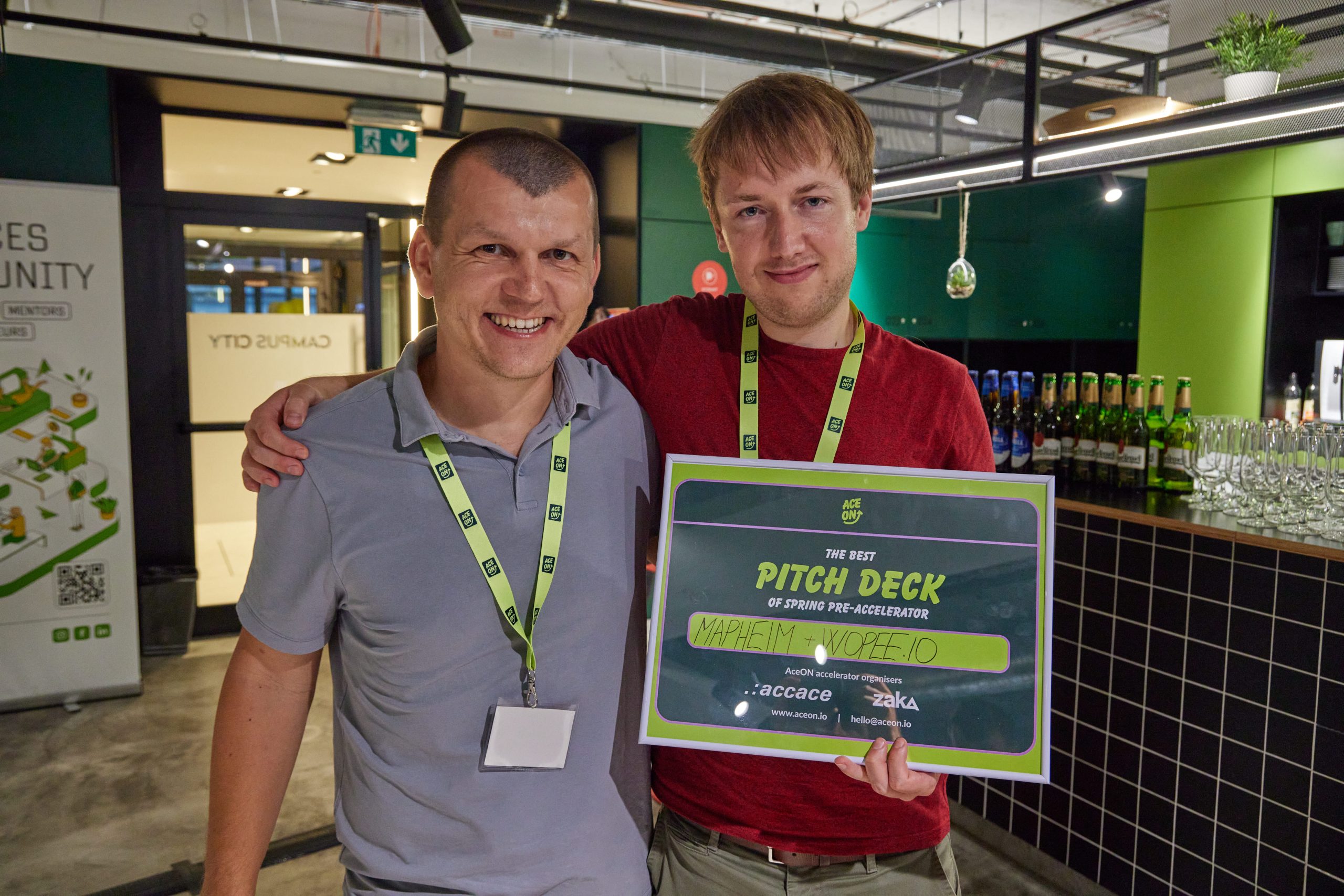 Mapheim is an innovative platform that enables businesses to create interactive maps easily and for a low price. Mapheim connects the physical and digital world and provides a better experience for visitors of fairs, conferences, festivals, or parks.
Wopee.io is an autonomous testing platform using bots to improve effectivity and reduce waste in software development and testing.
The Spring Pre-accelerator was open to idea and pre-seed stage tech start-ups from the Czech Republic and Slovakia during the first year. Next years' plan is to focus on European countries where AceON wants to support local talents and move them into the global start-up scene.
"At ZAKA VC we are convinced that one of the main criteria for the success of a start-up is a quality team. Central Europe is currently one of the fastest growing start-up regions and we want to contribute to ensuring that the talent in this region gets enough support to launch and grow their business ideas. We are excited about the progress made by the start-ups in the Spring Pre-accelerator, and we are already curious to see what the autumn batch, as well as the next editions of AceON, will bring," says Ján Kasper, Co-founder & Managing Partner of ZAKA, Co-founder of AceON.
"In the first year of the AceON Accelerator, we confirmed how important it is to have the proper business model and a scalable product. It's not enough to have an original or innovative idea, you need the personal commitment of a founder with a strong team. We believe our robust mentoring program has helped everyone move forward and validate their idea. We look forward to their progress and will continue to support them," adds Peter Pašek, Managing Director & Partner of Accace Slovakia and Co-founder of AceON.
The spring round brought together 17 start-ups, 16 mentors and speakers who delivered 14 workshops and provided dozens of hours of 1:1 mentoring. In the spring batch, we covered topics such as finance, marketing, community management, and no-code. Among the mentors were experts such as Peter Pašek (Accace), Andrej Petrus (ZAKA) and Pavlína Louženská (#HolkyzMarketingu).
The program continues with an autumn investment round with applications opening during the summer.
AceON is focused on accelerating technology and software ideas that have the potential to scale. Start-ups can participate in 2 types of programs – the Spring Pre-accelerator, which has already taken place and will take place again next year, and the Autumn Accelerator.
The 2-month Autumn program will be centred on 1:1 mentoring, networking and support based on individual needs, e.g. finalisation of MVP (minimum viable product). A maximum of 5 start-ups will be accepted into the autumn batch based on several criteria focused on potential for success in the global market, scalability or experience and skills of team members. Compared to the spring batch, the Autumn Accelerator also brings investment for selected start-ups. The application process and details of the program will be published on AceON website during the summer.