Last week, Accace Group acquired 30% of Legal Systems s.r.o., a start-up dedicated to the automation of contractual documentation, including signing and archiving. This acquisition comes as a natural next step of revolutionising the tools and technology Accace is onboarding. The automation of legal documents thus follows the development of an inhouse online portal solutions for accounting, advisory and payroll services and the launch of an eShop.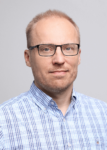 "Currently, we are pioneers among companies with an automated system for contract preparation and archiving," says Petr Neškrábal, the global head of advisory services and managing director of Accace Czech Republic. "When I saw the added value of the tools from Legal Systems I knew immediately that most companies will acquire this or similar system in the next couple of years and the solution will become a natural component of every department for an effective handling of contracts. As Accace seeks to combine consulting, outsourcing and IT solutions to have the perfect mix of client-oriented solutions, Legal Systems and its products fit perfectly into our IT solutions portfolio."
Legal Systems have already brought a number of innovations and automations that make legal processes a piece of cake. The solution allows to generate contracts from filled in forms, sign documents electronically with a security certificate, and authenticate parties through machine analysis and other variants of verification – completely online and available 24/7.